To access Accelerated Reader please click this link:  Accelerated Reader
View our Library Catalogue HERE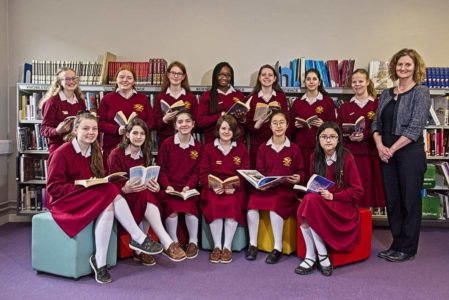 The Library/Resource Centre is located on the Science corridor and is easily accessible to the whole school community.   It is a lively place and a comfortable environment to work, read or browse the latest books, magazines or newspapers.
The Library aims to support both the curriculum and the School's Literacy and Numeracy Policy in addition to promoting and encouraging reading for pleasure.   We provide access to traditional and electronic resources to ensure that the Library is well equipped to meet the ever-changing needs of students and teachers.
Currently the Library holds approximately 8,000 items including fiction, reference, music and film as well as periodicals, journals and daily newspapers.   The main book stock is divided into Fiction, Information and Reference.  The Fiction section includes the classics as well as contemporary works and caters for younger and older teenagers as well as adult readers.   The Information section covering a wide range of subjects – curricular and extra-curricular – is organised using the Dewey Decimal Classification System (the system used in the public libraries).   The Reference section includes dictionaries, atlases, encyclopaedias, year books and directories. The school is committed to updating our stock on a regular basis and our fund-raising Bookstall held on the evening of the First Year Parent/Teacher meeting – when we invite parents of First Year students to donate a book to the Library – is a very welcome addition to this.
First Year students have an introductory visit to the Library during their first week in the school, when library cards are issued to them and they learn how the library is organised and how to search for information.  We use the Oliver library management software for cataloguing and lending. It also has an enquiry module and all students can search the catalogue to find what we have on their favourite author or subject.   There is internet access in the Library/Resource Centre and students can work on projects and do research using all resources available to them.   The Library is open from 8:15 a.m. to 4:15 p.m. on Monday, Tuesday, Thursday and Friday and from 8:00 a.m. to 2:00 p.m. on Wednesdays.  The half an hour before class starts in the mornings and student lunchtimes are always very busy.
A First Year's Impression of the Library
"As the end of First Year draws to a close, I look back and realize how I spent most of my time in the library. When you walk through the door, the gentle hubbub of people talking, laughing, playing games and doing homework welcomes you even more. Then you walk around to be greeted with a warm smile and a welcome from Ms. Madden who happily will help anyone with anything. And then it hits you, the sheer amount of books that the library has. If you are looking for a book and it's not there, Ms. Madden will help you find it or even get it in for you. They even have games such as Dobble, Mindful Colouring, Cards and Rummikub!

I love books so I was more than pleased to hear about the Library Committee, which hosts an annual bring- a- book- buy- a-book and bake sale for St. Michael's House.Every month the Library organises a Breakfast Book Club (with treats such as pancakes and cupcakes!!). Here avid readers can share books, review them and recommend them to others. The Library is connected to the Resource Centre. Here we learn Computer Studies taught by Mr. Bain. It is also a great way to research school projects and other stuff.

I am so glad that I'm only in First year and that I have many more years to spend in the Library! I spend all my lunch break here."
Victoria Piekarska-Daly 1B – April 2018
Programme of Events
We have an annual programme of events to promote reading and a love of books. We run competitions throughout the year e.g. at Halloween and Christmas and to mark World Book Day in March. These include quizzes, crosswords, short story or poetry competitions and book reviews. We encourage participation in the ReadaThon and arrange author visits to the Library.
Book Clubs/Book Boxes
Book Clubs are run monthly for First and Second Years. In addition to these there is a BOOK BOX outside various classrooms throughout the school. These have a selection of 25 attractive books so that whenever there is a free moment students can dip in and enjoy a good read.
Ms. Grainne Madden
Librarian
April 2018