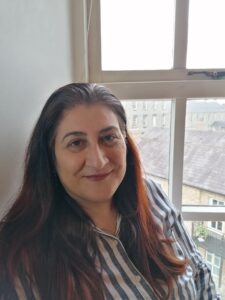 Chairperson's Welcome
Dear Parents,
Many of us would usually feel refreshed and rested from the end of year break and excited to enter a New Year, but with ongoing and stricter lockdowns, this year feels a bit different.
Since the Covid19 crisis came into our lives we are often overwhelmed and feel pressure- and so do our children. We have been using technology more than ever now and our screen time has replaced our personal interactions and our face-to-face connections with family and friends that are out of our household.
It is not easy managing the day-to-day responsibilities of caring for dependents, especially during school and nursery closures. Home schooling combined with working from home takes the challenge to a whole new level and gives new meaning to 'normal' working hours.
Some generations lived other hardships, and this is a totally new one, with no previous experience for trends to avoid. Maybe in the future history books this crisis will not look very important, but for us living this social distancing from our loved ones, missing the happiness of meeting them in person has been frustrating.
Our children are at a tender age, building up characters and thinking of the world, and they miss the close social interactions and are limited to seeing their friends over a screen.
It is left to us the parents to motivate, encourage and support them, more than ever, listen to their teenage 'crazy' thoughts and ideas, be their best friend and assure them that everything will be alright. Caring about yourself and your family is more of a necessity now than before, and not an occasional luxury. Allowing some time to recharge will make all of us happier and more productive in the long run, so please take care of your body and mind with some exercise, walking, reading a book or listen to your favourite playlist.
I would like to thank the school administration, the teachers and all the staff for their hard work on adjustments and the later smooth transition to online courses, as decided recently by the Ministry of Education. It is not the best way to receive an education, especially for the 3rd year and 6th year students, but there is no alternative, and they really do a great job to educate our daughters.
Please, remember this situation IS temporary and we have BETTER times coming, and we are in this TOGETHER!
With very best wishes
Eva Karagianni
Chairperson (2020/2021)