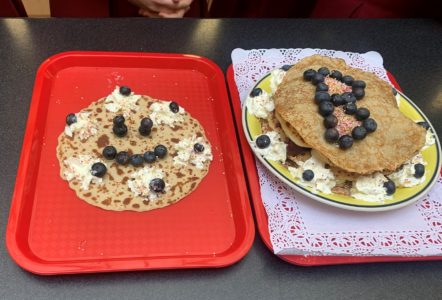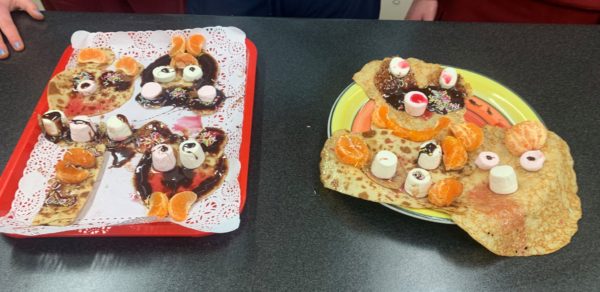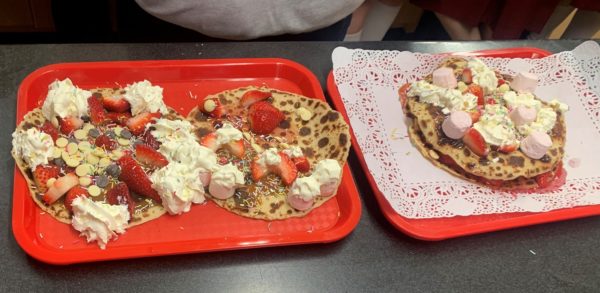 On Tuesday 25th of February the House Committee held their February House Event.  The theme of the event was 'Pancake Tuesday'.  The House Committee organised a pancake decorating competition between each of the houses.  One girl from each class participated. The competition was held in the Home Economics room.  Each team was given four pancakes and different types of fruit, chocolate, sweets and jams to decorate the pancake with. They had exactly 20 minutes to create their best pancakes.
Each team began with brainstorming their ideas with each other. They quickly came up with their idea and began decorating the pancakes.  Ms Kavanagh and Ms. Crinion were tasked with the role of judging the pancakes.  All the teams created wonderful and imaginative pancakes. The judges carefully analysed each of the groups designs.
The Tamarin house were overall winners in the end. They shaped their pancakes into monkey faces using marshmallows and oranges as the ears, chocolate as the eyes and jam for the mouth. It was great to see the girls from different year groups working together so well and using their House animal theme,  a Tamarin, as their focus.
Thank you to everyone for making this event so entertaining!!
Roisin Bannon (6T) – House Committee